When it's time to get your patient on their feet, our Sit-to-Stand Vests with the Sabina lift to help support their upper body.

Intended for patients who can actively participate in the raising procedure, these vests help move them to a wheelchair, chair or toilet. This process also gives the patient standing practice in connection with the transfer. Each vest model fits in different ways—for example, under or outside the arms—so you can make the best choice for your patient.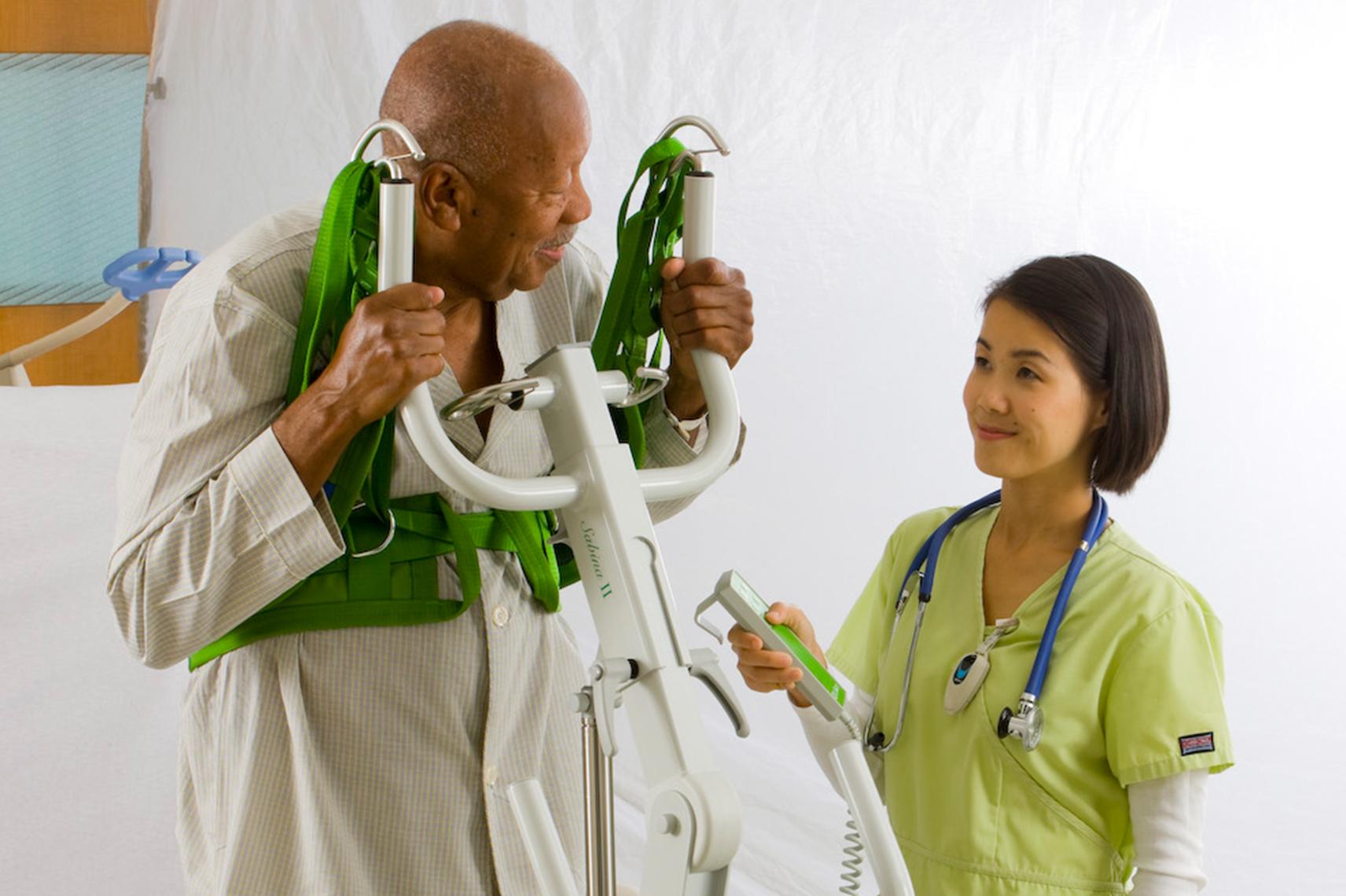 SafetyVest™ Lift Aid
This sit-to-stand vest is designed to assist patients with poor stability who have difficulty standing steadily. The SafetyVest lifts in a way that is self-regulating and safe—so both you and your patient can feel secure. The vest is padded with a fabric that provides a high degree of friction and helps prevent gliding. Synthetic sheepskin padding is available as an accessory for softer, more even pressure distribution.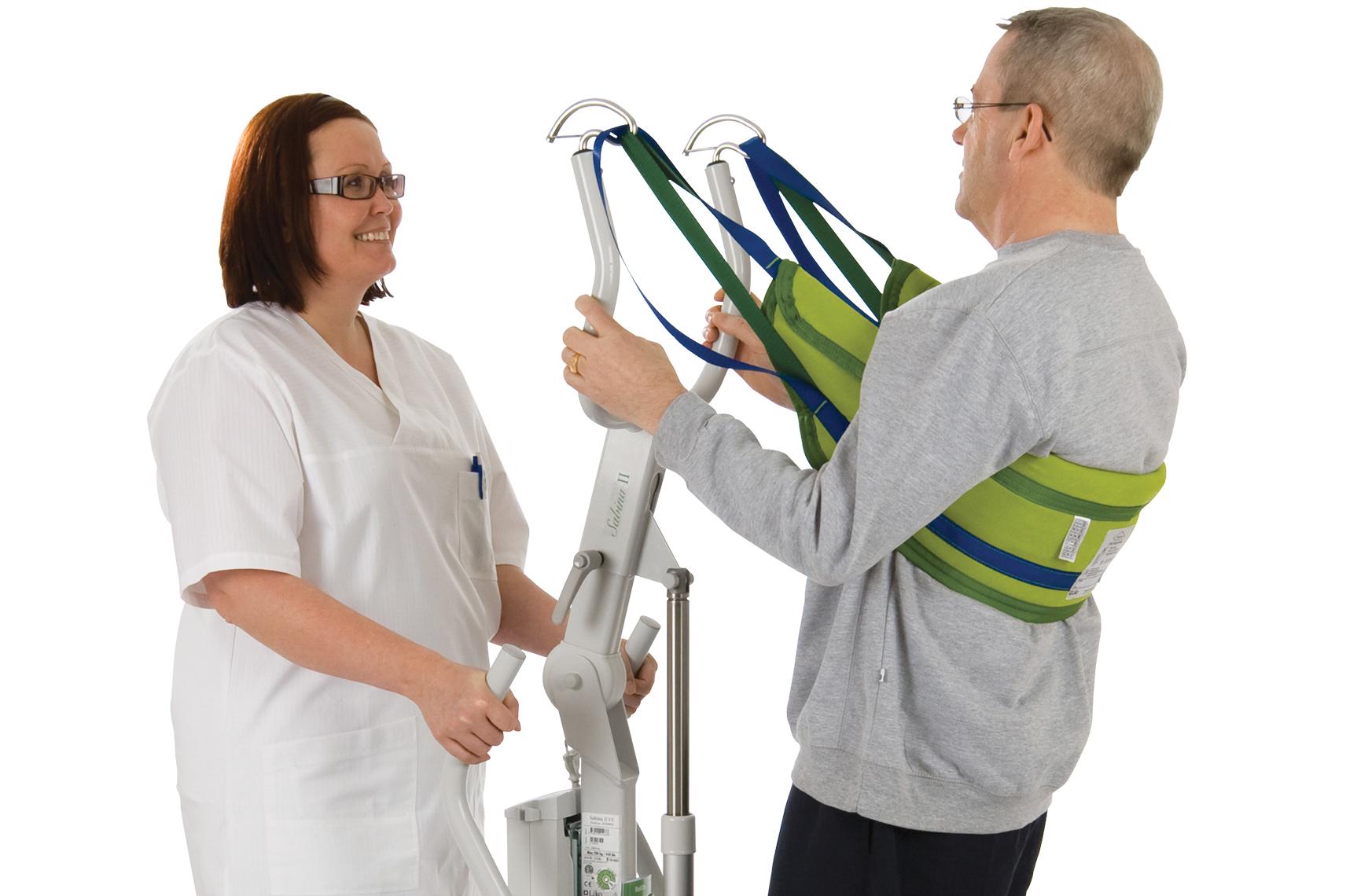 Solo SupportVest™
This disposable sling is designed for short-term, single-patient-use. Used with a Sabina lift with the SlingBar 350 (narrow), the Solo SupportVest lifts behind the back and under the arms, suiting patients who need help to raise themselves but who can then stand firmly on their own legs. The sling comes in two sizes and is made of a strong, non-washable, non-woven material. ComfortVest™
This sit-to-stand vest is designed especially for patients who are paralyzed on one side or must avoid underarm lifting pressure. This unique vest works together with a Sabina lift with Comfort Sling Bar and functions differently from other sit-to-stand vests. The outer vest lifts behind the back and outside the arms, while the inner waist belt prevents gliding and keeps the patient from sliding out of the vest. The self-regulating tensioning function works according to the same principle as the Liko® MasterVest.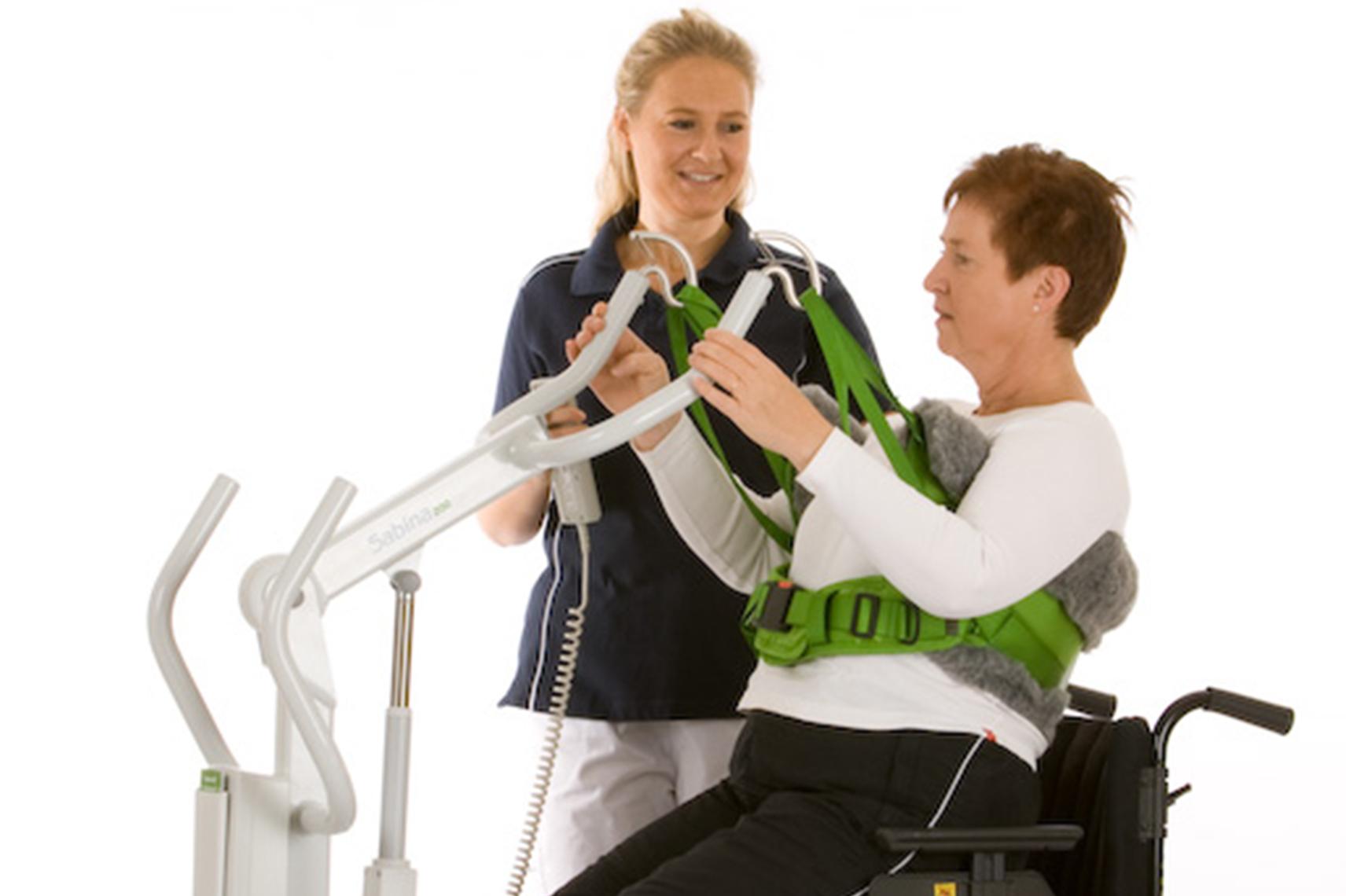 SupportVest™
This comfortable sit-to-stand vest is simple to use and requires minimal individual adjustment to suit any patient. It is used for patients who require a lot of help to lift themselves but who can then stand firmly on their own. The vest lifts behind the back and under the arms, and an adjustable waistband holds it in place during application. The inside of the vest is corduroy-lined and prevents gliding, with the option to attach removable sheepskin padding.
Technical Specifications
Dig deeper into product attributes to see how we can fit your requirements.
|   | Safe Working Load | Fabric | Sizes | Solo (Single-Patient-Use) Product |
| --- | --- | --- | --- | --- |
| SafetyVest | 440lb | Polyester, padded with plastic-coated net | M, L | No  |
| Solo Support Vest Lift Aid | 440lb | Nonwoven material | M, L | Yes |
| ComfortVest Lift Aid | 440lb | Polyester, padded with plastic-coated net | S, M, L, XL | No  |
| SupportVest | 440lb | Polyester, lined with corduroy | S, M, L, XL | No  |