Voalte Mobile streamlines workflows so that any care team has the information they need to move their patients along the path to recovery, driving efficiency and effectiveness through eliminating unnecessary steps.

Our solution aims to unleash any care teams' full potential, so that any organisation - no matter the size or location - can do more with care communication.
We support teams turning information into action, inside and outside the hospital, with one, integrated, easy-to-use solution. 
This is a new healthcare communication paradigm, and we can meet you wherever you are on your digitalisation journey.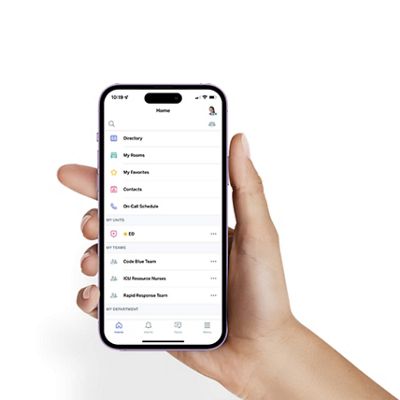 15 years of experience:
Voalte Mobile
Voalte Mobile is a solution to the challenges of a rapidly evolving healthcare landscape. Together, we will work to enable care efficiencies, improve care outcomes and broaden access to care in the hospital.

Voalte Mobile has been successfully integrated as a bespoke communication solution; from large-scale hospitals to specialised clinics. We see it as a strong answer to today's clinical communication needs.